Ask Bindertek:
Between attending social events, entertaining guests, juggling my kids' vacation plans, trying to figure out a gift to give to my grumpy uncle and keeping track of every item on an endless to-do list, I feel like my life gets out-of-control around the end of the year. How can I remember everything and stay organized during the busy holiday season?
We're about to introduce you to your new best friend.
But first, know you are not alone. One study by the American Psychology Association found that 61% of people feel more stress around the holidays. (We presume the other 39% have neither kids nor in-laws.) In addition, 68% of people report feeling more fatigued around the holidays and 52% say they become more irritable. We wonder why that could be…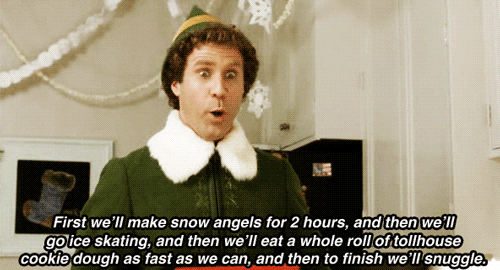 What are some ways to cope? Therapists generally suggest:
Acknowledging your feelings and setting realistic expectations
Setting aside a few minutes each day to meditate
Not completely abandoning healthy eating habits
Unplugging from electronics
Planning ahead
We are powerless to help when it comes to resisting that third piece of pie. But we can help you unplug and plan ahead. Which brings us to the aforementioned new best friend — the Bullet Journal!
Part journal, part planner and part sketchbook, the Bullet Journal is a nearly blank notebook but with three key features: there are index pages at the start of the journal, the pages are numbered, and each page is covered with a grid of light grey dots (or "bullets"). Those sound like minor items but combined they become the basis for an entire system of organization. Bullet journaling was first developed by a digital designer named Ryder Carroll, whose video explaining the system is still the gold standard:
We are fans of Ryder Carroll's original system; if you are new to bullet journaling we suggest you start by giving that a try. That said, the beauty of a bullet journal is that there are no rules. You are free to develop whatever system works best for
you
. Create a gift list spread as we did, compile grocery shopping lists and recipe ideas for holiday parties, make a countdown calendar to ensure everything gets handled on schedule, and keep track of regular daily events and chores that can easily be forgotten in the commotion. The beauty of the BuJo lies in its customization. An entire community has sprung up around bullet journaling, with people sharing their systems and examples of how they have used their journal (often using the #BulletJournal hashtag). In particular, we love the list of holiday Bullet Journal ideas from
Aumsome
and the round-up from the original
Bullet Journal
website. Being part of the bullet journal community provides motivation and inspiration for keeping up with your own journal.
While many people find bullet journaling to be addictive once they get started, there are people who find the empty pages of a bullet journal daunting and would prefer to work off a template. If you are one of those, forgo the bullet journal and consider organizing with a Balanced Life Planner instead. The pre-printed Balance Life Planner pages contain a daily schedule, to-do list sections, and regular prompts to encourage work-life balance. Whichever notebook you use — a Bullet Journal or the Balanced Life Planner — writing things down will leave you more organized, less stressed, and better feeling all around.
As for finding a perfect gift for your grumpy uncle, well, some questions have no good answer. But you can only go so wrong with socks.